I really enjoyed photographing Casey and Todd's engagement session at Annapolis. It was a lot of fun and they always made me smile or laugh. If you haven't seen the photos, you should! You'll see what I mean. 🙂
Well when I photographed their wedding, it was not that different either. In fact, there were a lot of funny moments. Both sides of the family and friends were all goofy and playful most of the time. They sure made the day really entertaining! 😀
As for the wedding ceremony and reception, Casey and Todd decided to celebrate them at the prestigious and famous waterfront venue on Maryland's Eastern Shore, The Chesapeake Bay Beach Club.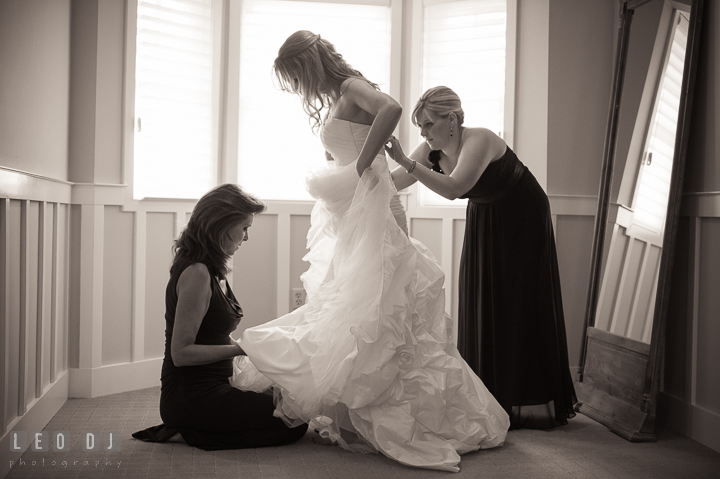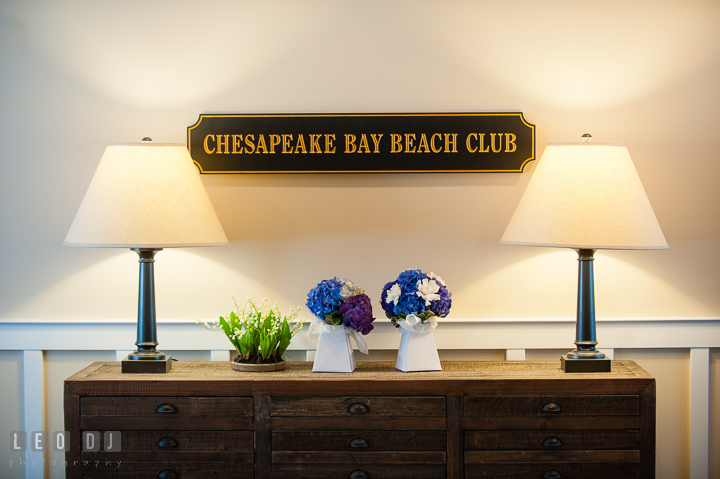 The Bridal party were getting ready in the beautifully decorated Tavern Suite.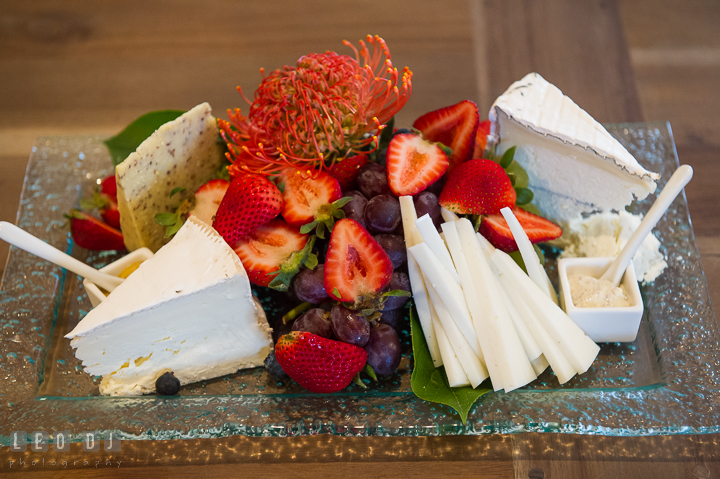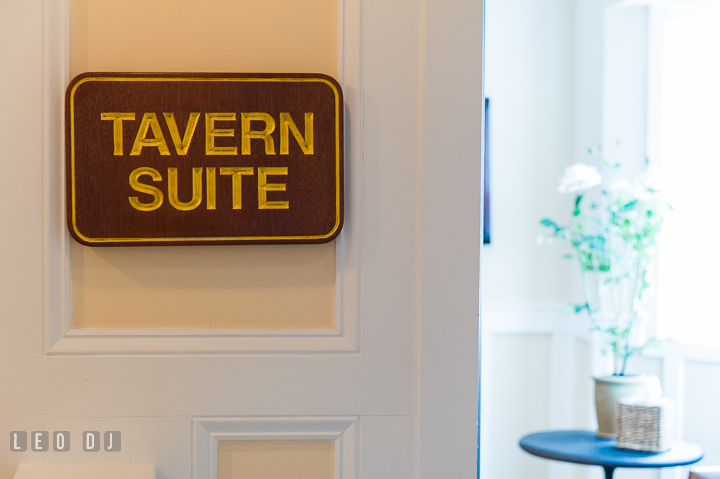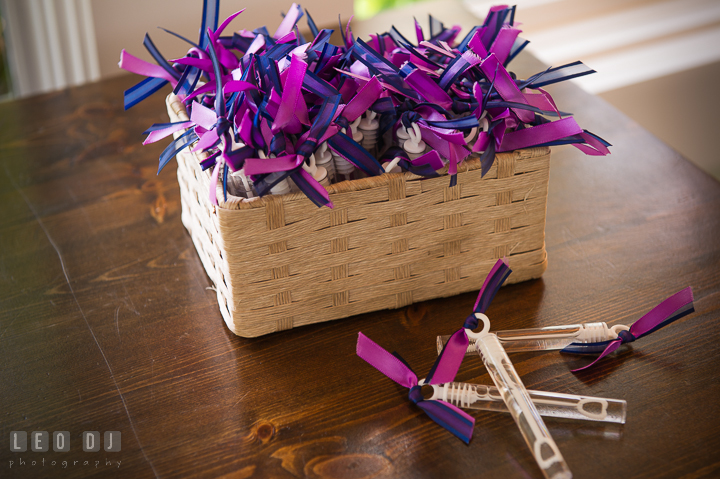 Todd, the Groom, had white orchids for his boutonniere, as well as all the Fathers, Best Man, and all the Groomsmen.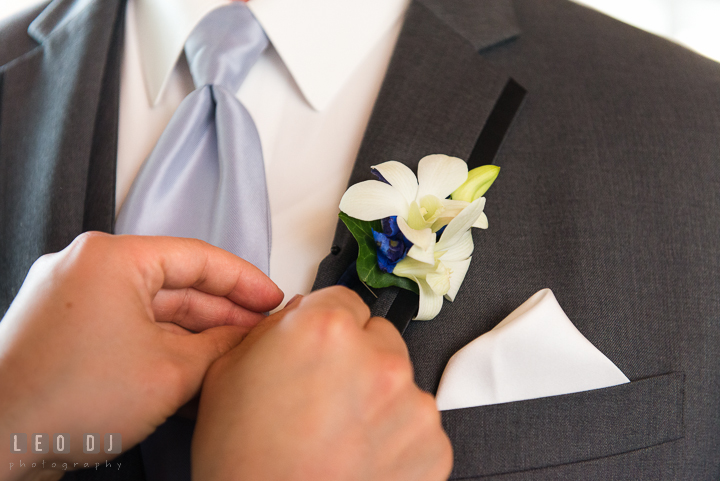 Meanwhile the Bride got this gorgeous white roses and blue violet hydrangeas flower bouquet designed by Cache Fleur.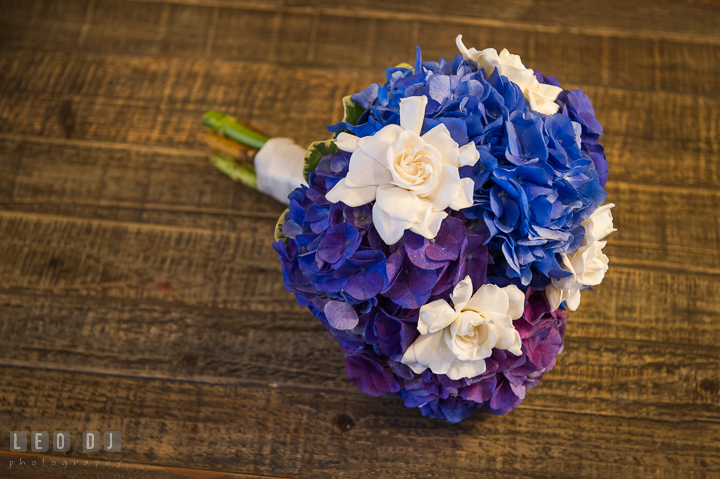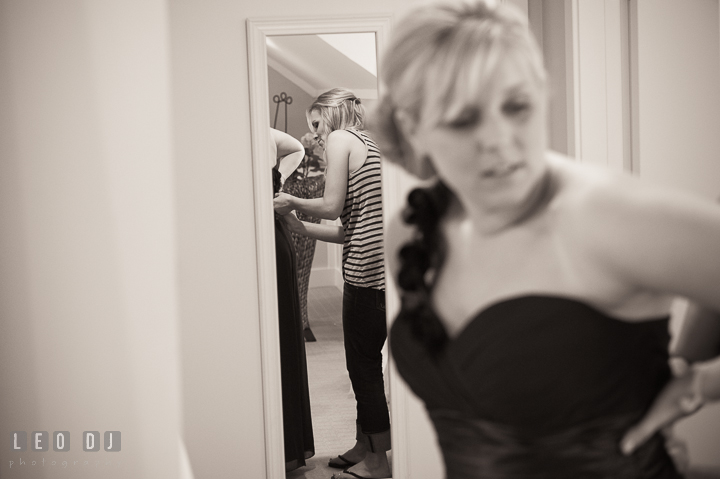 This gorgeous wedding dress was from Bridals by Elena.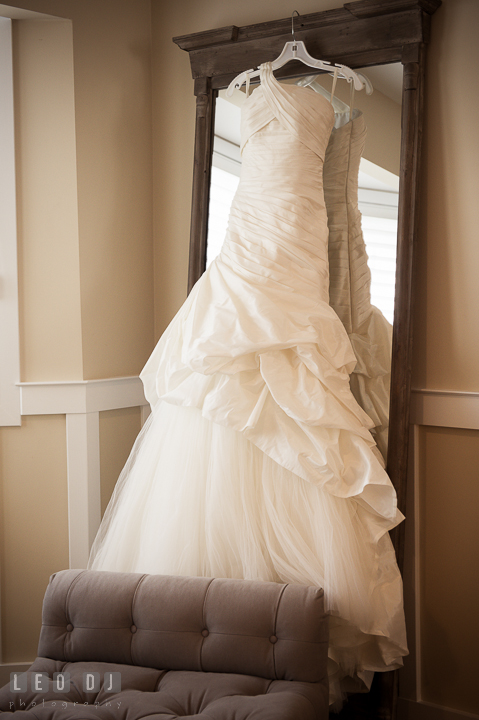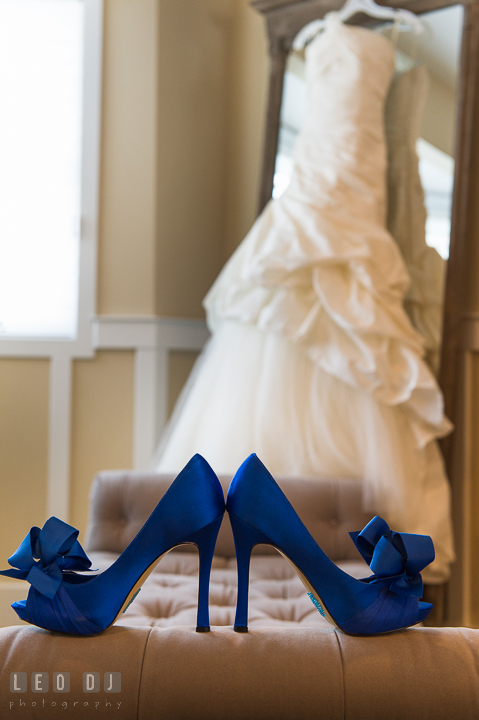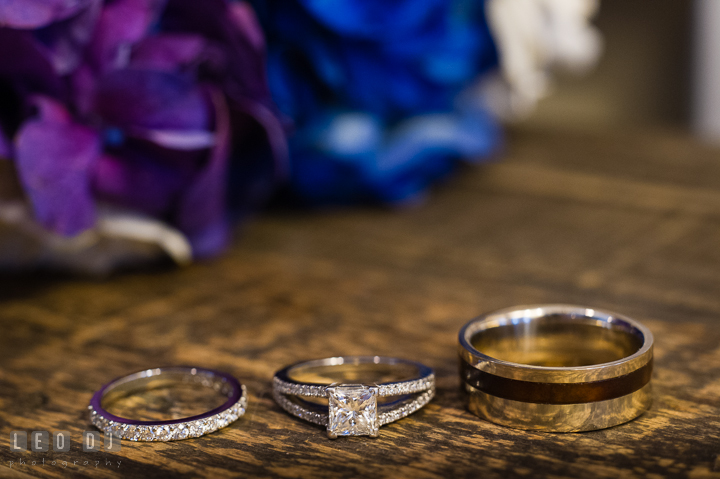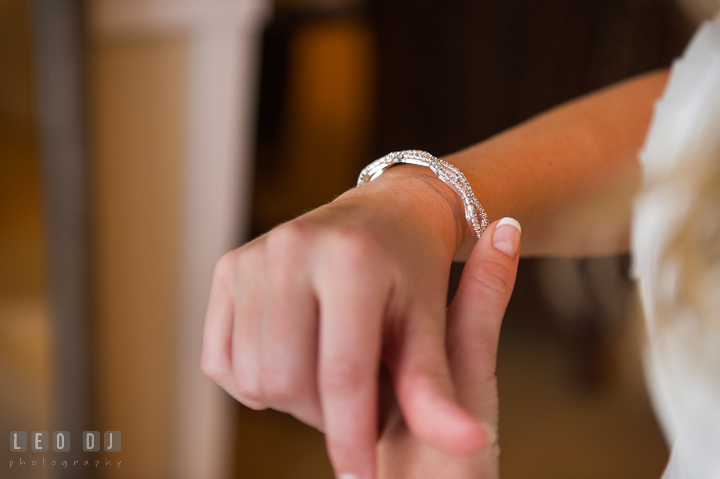 Casey and Todd decided that they wanted to do first glance before the ceremony.
I really loved it when Brides and Grooms decided to do this because they would then be able to have a time alone and express their emotions when they saw each other the first time. Photographing their reactions would be priceless. 🙂
Waiting for the Groom…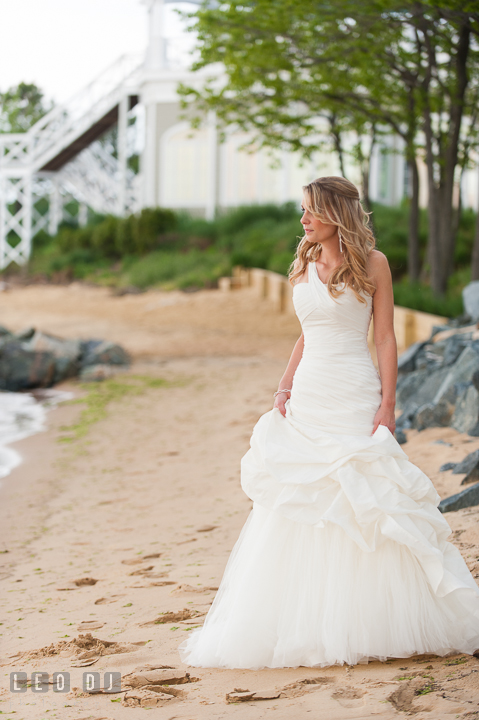 Here comes Todd. 🙂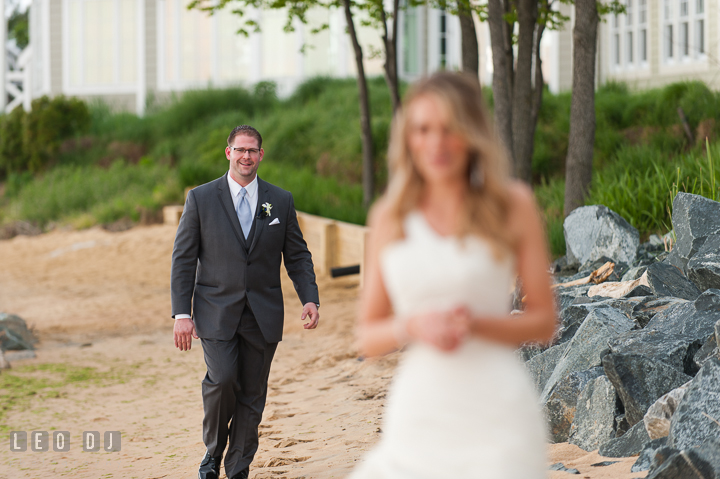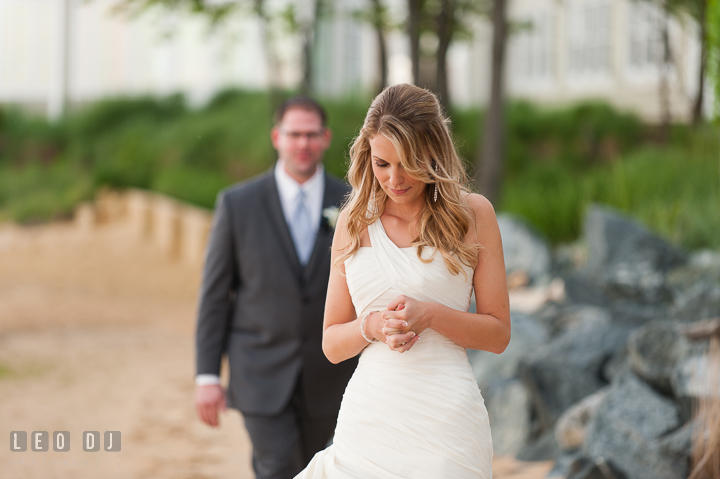 Then their eyes meet for the first time, seeing each other in their wedding outfit. 🙂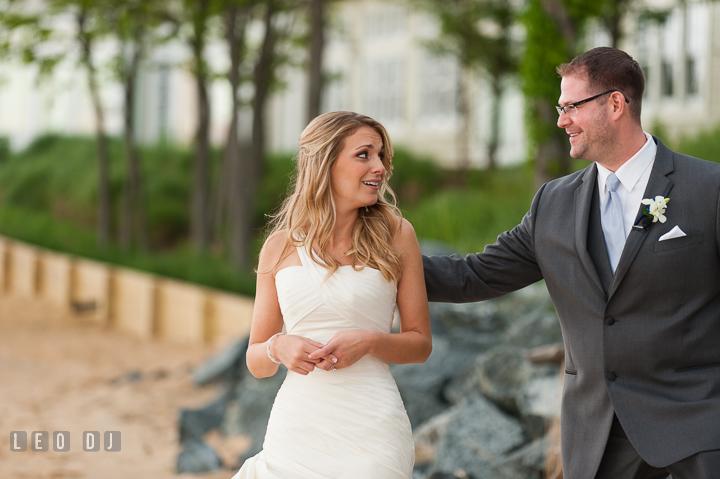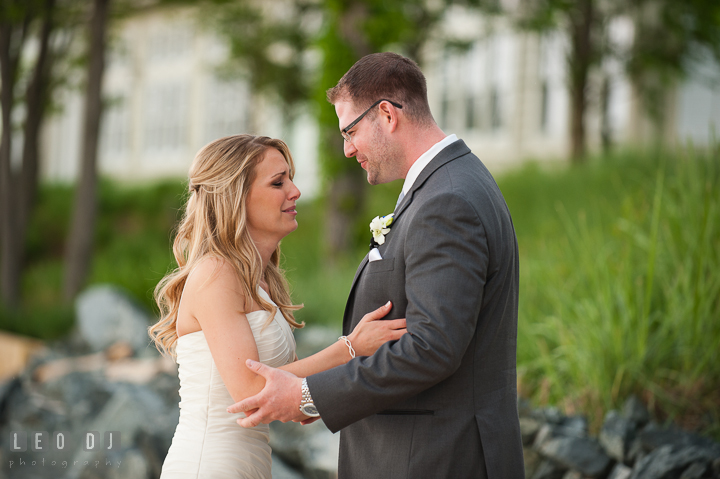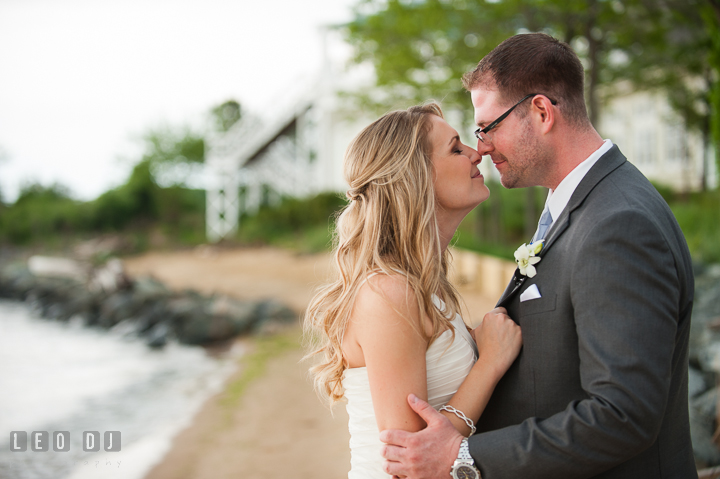 Casey was wearing a special Bride sandal suitable for walking on beach sand.
I couldn't imagine if she had to wear high heels on the beach. 🙂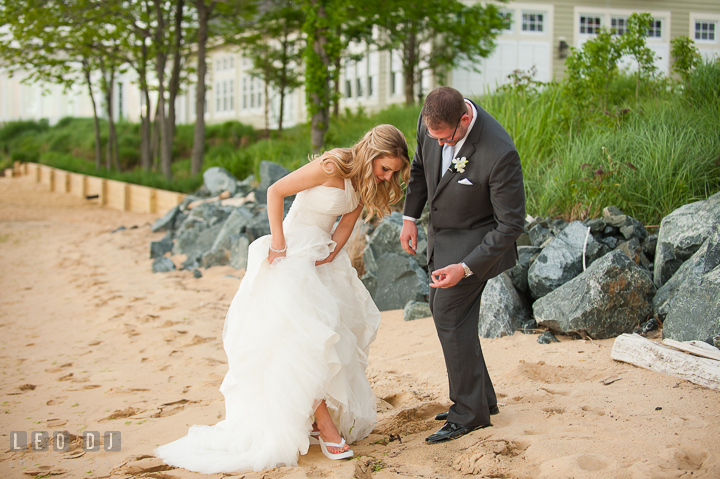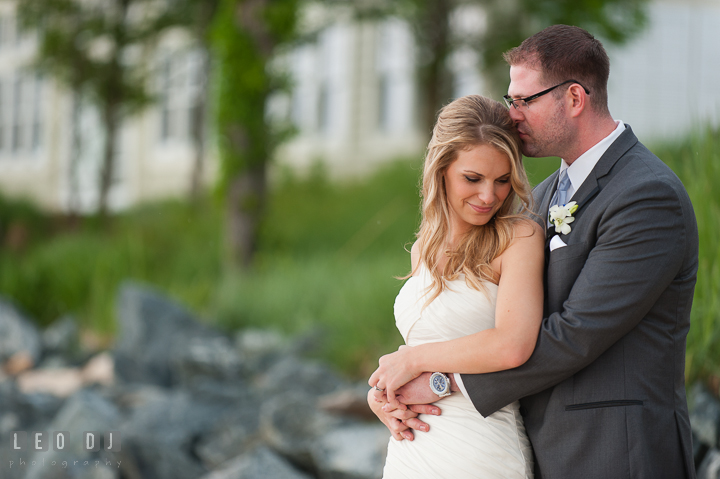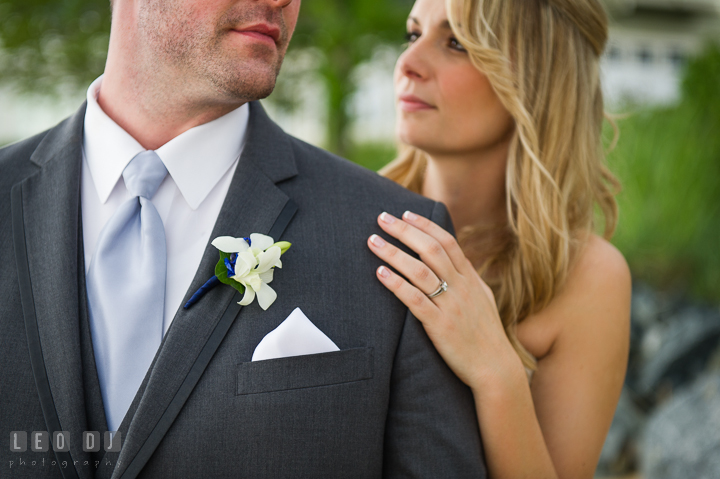 After the first glance, Casey had help from her Man of Honor to put on her wedding shoes for the ceremony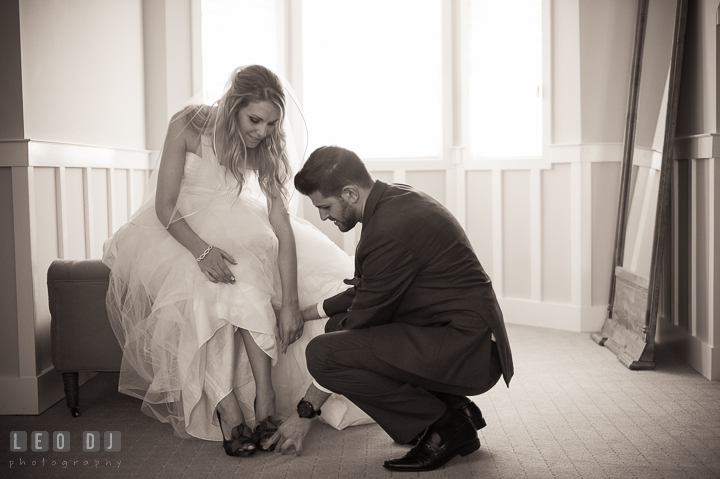 Gorgeous water view of the Chesapeake Bay from the ceremony site.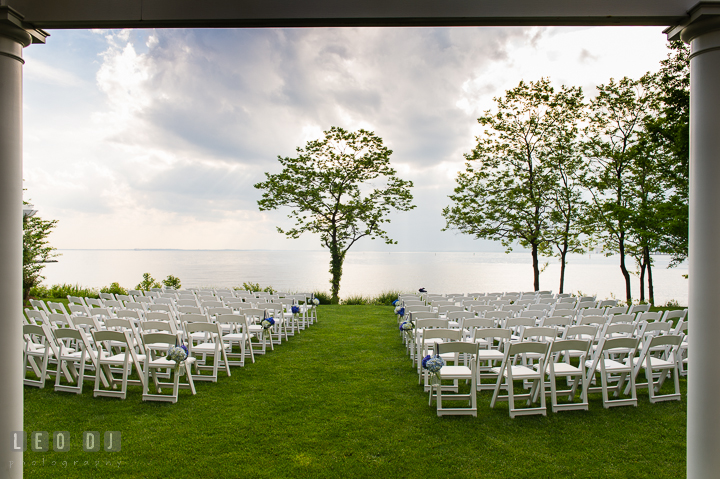 More hydrangeas for the aisle decorations.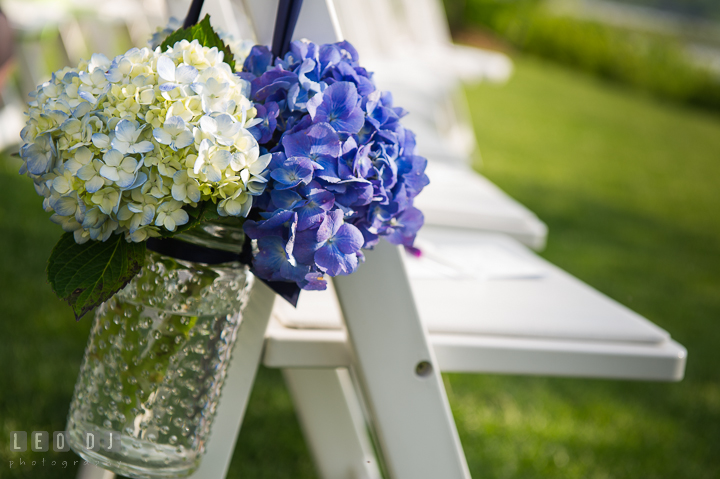 Here comes the Bride, escorted by her Father. 🙂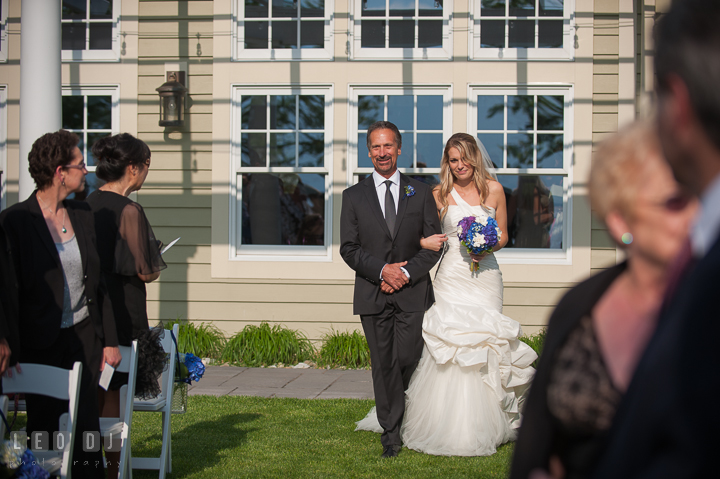 Uhm…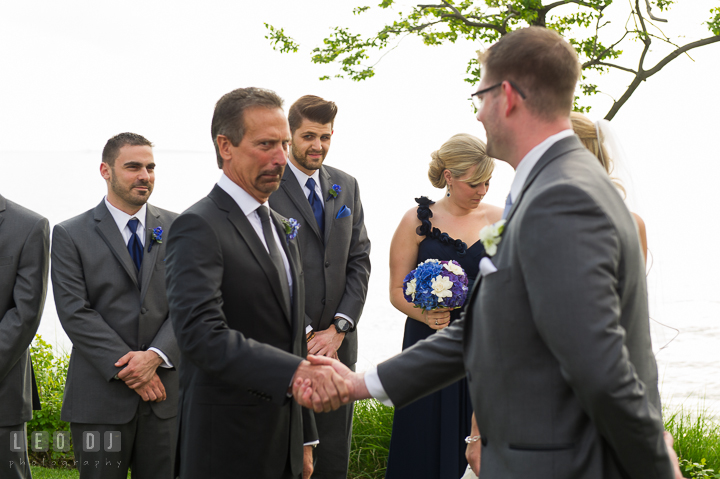 Haha… 😀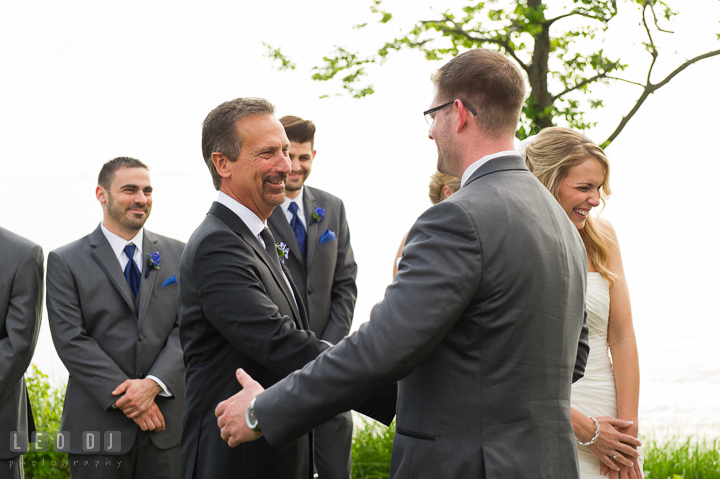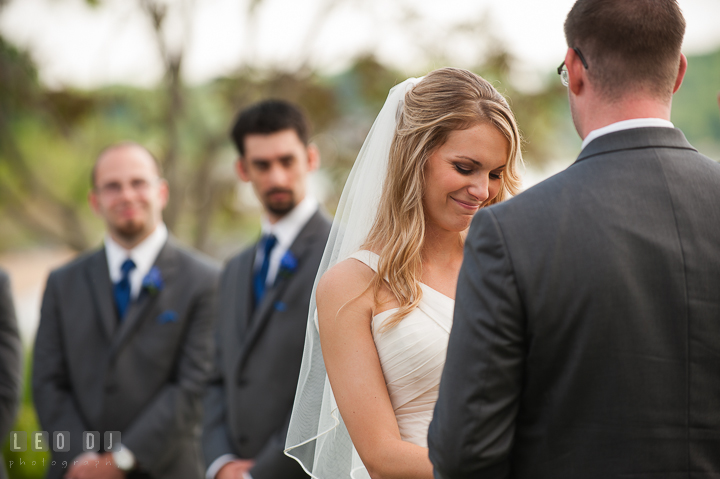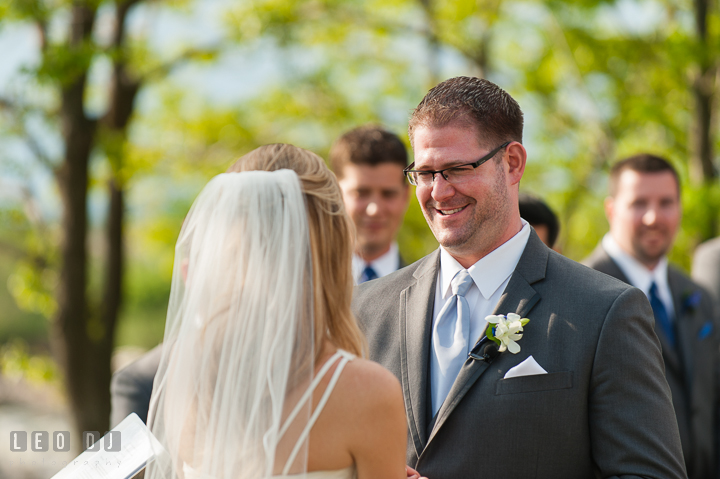 After reciting the vows, it was time for the Bride and Groom to exchange the wedding rings.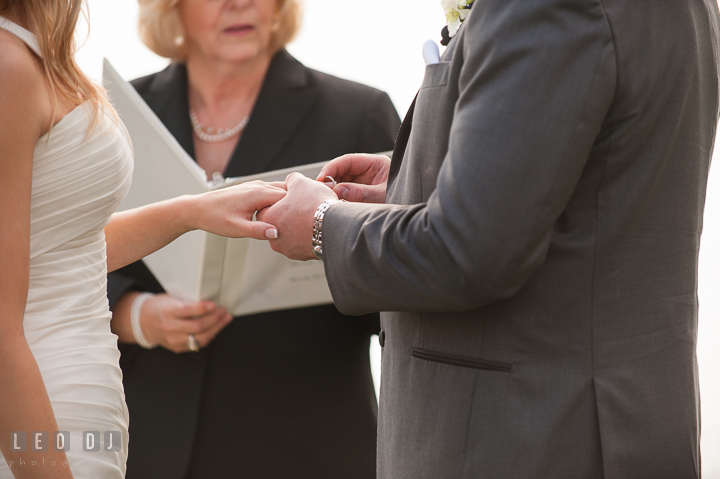 Then unexpectedly something happened.
Todd accidentally said, "With this wing…"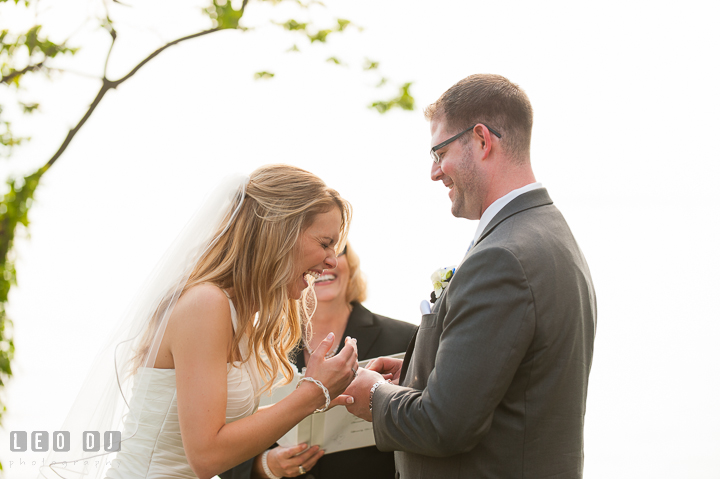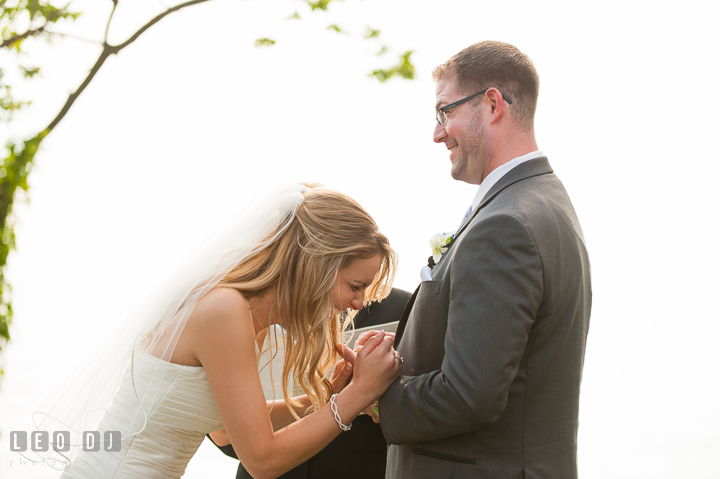 So there were at least two funny moments you seen so far, both were during the ceremony.
Wait until you all see the reception party photos. 😉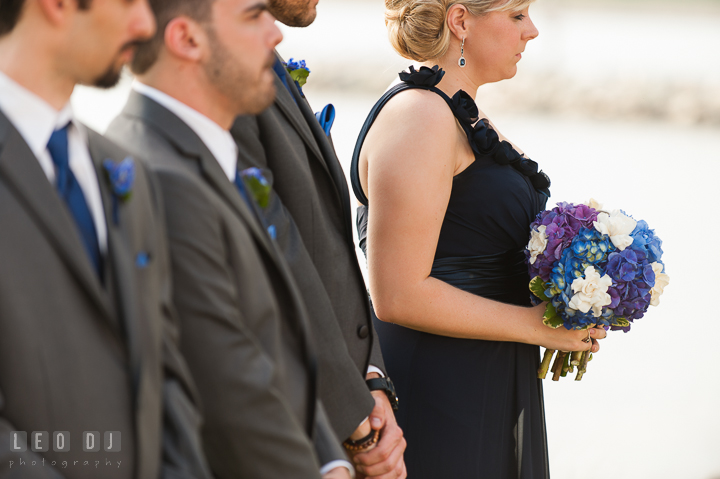 And finally the officiant, Mary Tankersly, said, "You may kiss the Bride!"
🙂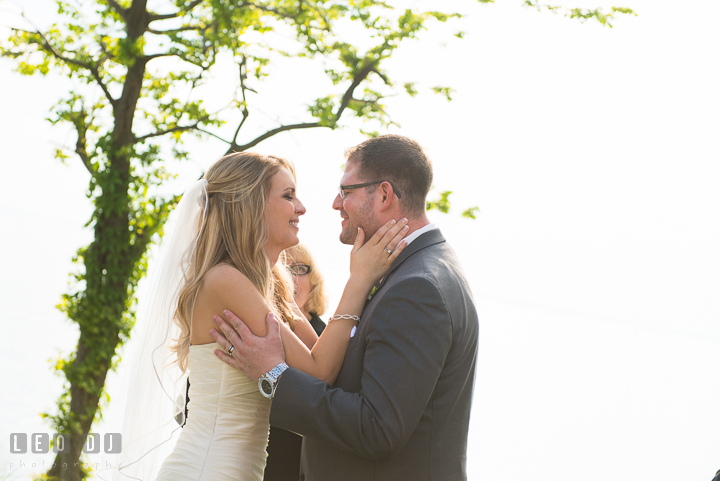 Casey and Todd are now officially husband and wife! 🙂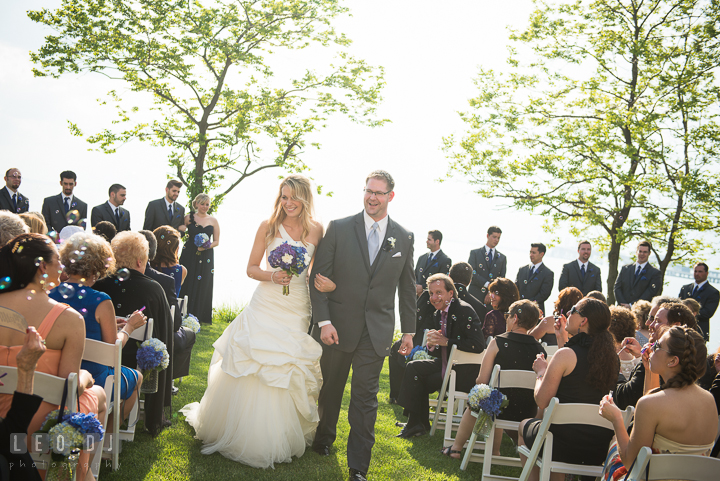 To be continued to part two, the ceremony!
Leo Dj
—
Vendors
Venue and Catering: Chesapeake Bay Beach Club
Officiant: Mary Tankersly
Make up: Makeup Memories
Hair: Hudson & Fouquet
Dress: Bridals by Elena
Florist: Cache Fleur
Decorations: Cache Fleur and Art Display Company (table numbers and seating chart)
Cake: Sugar Bakers
Band: Onyx
Videography: Buerhaus Design Videography
Limo: ZBest Zimousine
Cards and Stationary: Paper in the Park
Wedding favors: In lieu of favors, the Bride and Groom donated to the SPCA of Anne Arundel County